Coronavirus Update
By Dynamic Heaters
The recent worldwide events surrounding Coronavirus has forced UK businesses to close doors, pause operation and readjust whilst our National Health Service deals with the biggest threat the country has faced for decades. Following the Prime Ministers speech addressed to the nation on the 23rd of March 2020, Dynamic Heaters have temporarily paused all operation closing the doors on our showroom in Poole, Dorset on the 24th of March 2020 and rearranging all fitting dates booked in prior to the announcement. Up until the announcement, Dynamic Heaters were operating as usual. We implemented measures to protect both our staff and any customers we encountered.
Coronavirus actions implemented by Dynamic Heaters
Regularly washing hands and using antibacterial sanitiser
Implementing regular workstation wipe downs for office staff
Enforcing a 2 meter social distancing rule with customers
Providing extra PPE to onsite staff
Pre qualifying questions for anyone looking to book in a survey or work
Video surveys conducted over the internet with no face to face contact
Continual updating through guidance from Public Health England and the World Health Organisation
Adapting and enforcing these measures allowed us to continue our service for as long as possible.
On the 21 of March 2020 we posted the following message on social media: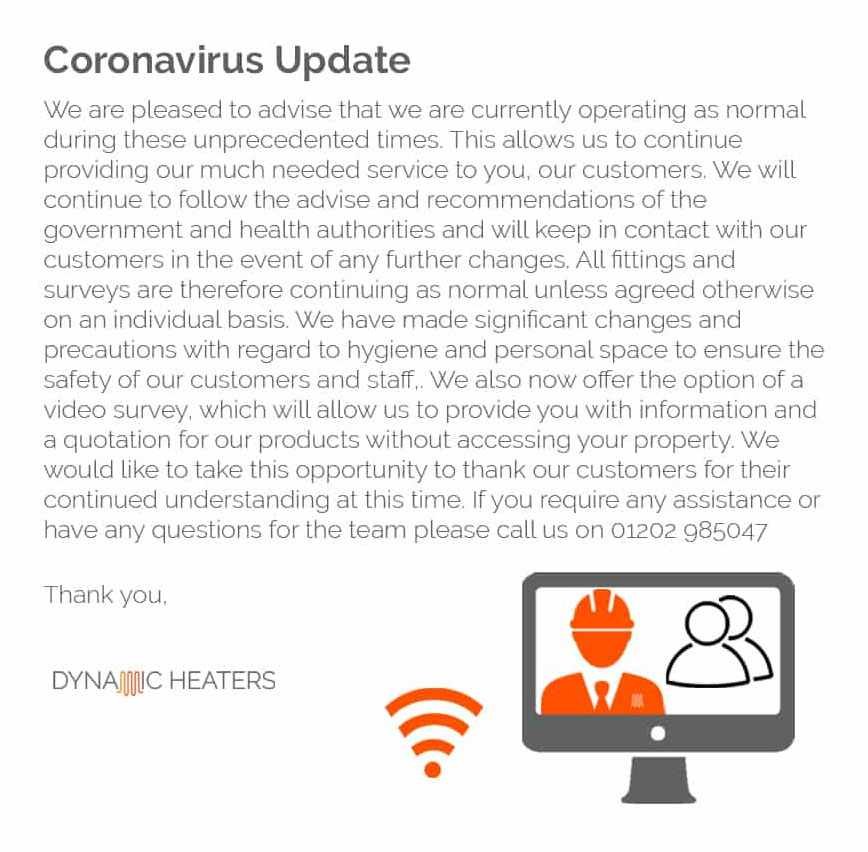 Followed shortly on the 24th of March 2020 by the following message:

The Coronavirus has put growing stress on our National Health Services and poses a huge threat to society health. We strongly believe that taking the action we have will reduce any risk our operations posed to assisting the spread of the virus. Now, along with most businesses in the UK, we are awaiting further instruction from the Government and will continue any updates from our Facebook page.
If you have any questions about our shutdown or would like to discuss anything, you can contact us on 01202 985047 or use the contact us form on the website.
The UK stands together to clap our National Health Service at 8pm on the 26th of March 2020.

Throughout this period, we are continuing virtual surveys and quotations which can be booked using our 'book a survey' form on the website. We very much look forward to continuing our operation shortly following further announcement and we continue to thank you, our customers. Please stay safe and most importantly please support our National Health Service by staying at home.